Communication between devices from different manufacturers can be difficult but Red Lion takes the hard work out of protocol conversion by supporting more than 300 industrial protocols. Communicating with Allen-Bradley, ABB, Schneider and Siemens equipment is a breeze using Crimson®'s drag-and-drop mapping functionality. Red Lion offers the industrial industry's only protocol conversion and data-acquisition system that communicates data to your PLC with a few simple clicks.
---
The Data Station Plus from Red Lion is an industrial data collection and management device. The Data Station Plus offers protocol conversion, data logging and remote machine access with three built in serial ports and a 10/100Base-T(X) Ethernet port. The combination of more than 300 built-in protocols and several physical communication ports enables disparate devices to communicate seamlessly with one another. Learn more.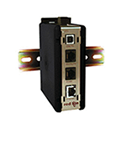 The ICM8 is designed to allow Red Lion panel meters to communicate over industrial Ethernet networks. The ICM8 communicates via RS-485 to Red Lion panel meters, converting serial to Ethernet for remote monitoring and control. Up to 32 meters can be wired to the ICM8 using RS-485 serial communications. This ICM8 converter is only compatible with Red Lion panel meters; please use the DSP for all other protocols. Learn more.